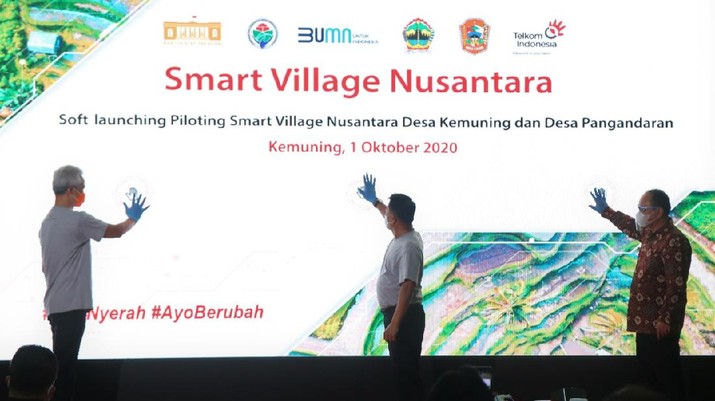 Smart village is a program initiated by Telkom Indonesia and the Ministry of Villages, Development of Disadvantaged Regions, and Transmigration in order to advance the potential of villages by building a digital village ecosystem through optimization of network infrastructure and ICT solutions. This program was first launched on October 1st 2020, announcing Kemuning and Pangandaran Villages to be the pilot villages. This event was inaugurated by Vice Minister of Villages, Development of Disadvantaged Regions, and Transmigrations Budi Arie Setiadi, Chief of Staff of Presidency Dr. H. Moeldoko, and Governor of Central Java Ganjar Pranowo.
This program is targeted to advance villages with different potential, focusing on the government, economic, and social. It is highly appreciated by Budi Arie Setiadi, "villages are the future of Indonesia. There are three main sectors of Indonesia that cannot be excelled by other countries, they are agriculture, fishery, and tourism. Villages with those three excellences must be strengthened and improved. We hope that Kemuning Village would be a model for other villages in Indonesia." Said Budi Arie Setiadi. Similar things are also declared by Ganjar Pranowo. He added that he hopes that through Telkom, citizen entrepreneurship would be encouraged.
Kemuning Village, as the pilot village in Central Java, is provided with many supporting facilities for development into a digital village. Those facilities include the use of ICT solutions to encourage the implementation of the digital village, such as Sistem Informasi Manajemen Pelayanan Desa or Simpedelsa (Village Service Management Information System) application, E-Money, ePuskesmas, Biokop Desa (Village Cinema), and so on. iKas, a digital cashier platform, is also being the supporting platform for the development of Telkom's Smart Village Nusantara. iKas can the right business support solution for businessmen in villages by providing comprehensive and easy-to-use solutions.